we will need a report on the fight trail for the weekend. Not the new stuff but the granite based trails
Go check it out and get back to us.
Any word on Conditions at Keppoch?
Their Facebook page is usually quite up to date with conditions and if it's open to bikes/fat bikes only/ etc
Word has it that Whopper is rideable.
I hadn't been to whopper in several weeks. I went for a trail run with the dog through daminion , flipside and scotch a couple days before the storm, I found there were quite a few mud pits- I thought to my self I would prob avoid till we get a solid ground freeze on…
I was in Whooper before the snow and it was holding up well. No need to scream bloody murder over a few mud holes over Km's of trail. The mud holes that are present are in most part avoidable. In all reality the fire road was the softest.
Scoped out Bowater this morning. No snow. Nothing but hero dirt! Will be even better tomorrow as it firms up even more.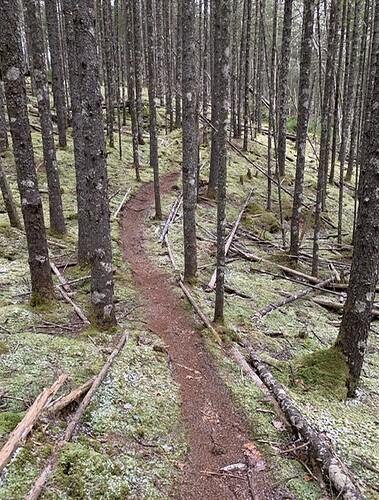 Awesome, thanks for the report Derek.
I'm definitely going to need to check this place out next week, never been looks awesome
It's amazing when it's hero dirt.
No bloody murder screams here @Goose


Things probably seem more prominent to me when I'm moving slower on foot. I usually try to err on the side of caution so I don't harsh the mellow of any trail gnomes! I know you do a lot of great work on those trails!
Was into Spider today, Pipeline was 90% ice, Skull was good, not great. Mostly a light coating of crusty snow, no ice.
Rolls was right. Bowater was great today. Eight of us hit the trail at 10am and I'd say there was a group of about 10 or 12 riders leaving on the 1pm ride. Another group of 3 showed up on my Strava feed later in the afternoon. Thank you Aubrey!
Just rode Whooper (Suzie Q and Flip side) Both in great shape. The only thing is getting by the ICE road. Only two spots on Suzie Q that has ice on exposed granite, other than that it's mostly snow packed or clear.
Forgot to mention a tree down on Suzie Q side on the long descent.
Have fun!
Suzie Q cleared of trees and trails are looking good. Still be careful on the roads however.
Old school muddy spots on Macfight are like Hard clay no ice on granite. Should be solid froZen this weekend.
Just a light dusting of snow at bowater. Would still be great with skinnies and no studs.
Nigel and I are headed there for 11:30 if anyone wants to join.