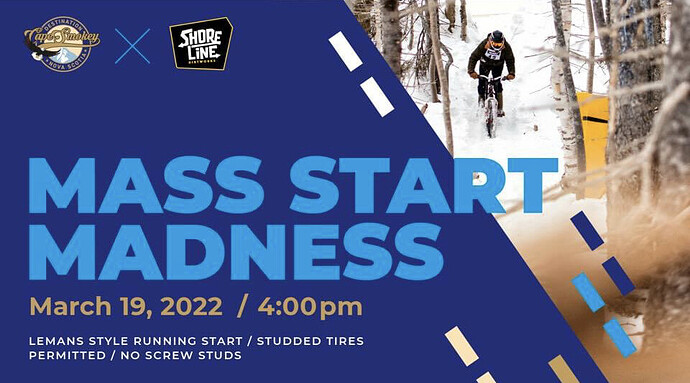 Tickets available here.
When: Saturday, March 19, 2022 @ 4pm (on-site registration opens at 3pm)
Where: Destination Cape Smokey
Who: You love bikes and have the need for speed.
Riders under the age of 18 will require permission from a parent or guardian who is present at time of registration on site.
Format: This is a LeMans style mass start event. Riders will place their bikes in the bike start area. When the starter goes, competitors will blitz a short foot race type sprint to the bikes. This is where smooth transition from foot to bike will be key. Riders then blast their way down the chosen course in a no contact kamikaze style mass start run where there's only one champion who crosses the line first. Anything can happen when ripping down 320m of elevation on a bike in the snow.
The race includes one run for all the glory to the finish line.
Cost: $44.99+HST (Adult), $19.99+HST (Children), $35.99+ HST (Student), $37.99+HST (Senior)
Includes race fee and Gondola ride, access to hiking/snowshoe trails, free cover charge for live music that evening and one Cape Smokey Pilsner to enjoy (must be 19+ non-alcoholic beverage option available)
Rules: This is a mass start bicycle event. Registration starts at 3:00 at the rental kiosk inside the lodge. Once registered, riders will then take the Atlantic Gondola to the top of the hill with their bike. Earlier registration means better start line position pick and better price if you register online vs in person. Every second will count.
Any kind of manually powered pedal bike with 2 or more wheels is permitted. It must have two functioning brakes. Studded tires are permitted, but not screw studs. Bicycles with screw type studs will not be permitted. Helmets and gloves required, goggles and body armor recommended.
NOTE: Riders who were registered and participated in the 2020 Fat Bikes and Beer Festival bike race receive complimentary admission. Please use the same email address used for your original registration. For your pre-registration – please do so online by email at info@capesmokey.ca with subject Mass Start Madness.
All Covid health regulations apply, and while on campus at Destination Cape Smokey, masks or appropriate face coverings must be worn properly at all times unless seated in the restaurant eating area.