This may be a repost, but nonetheless, here is an interesting link for a trail system that many have visited.
A victim of their own success. Land owners probably got tired of the bike and car traffic all over their roads. Especially 'city folk' traffic.
Good quote:
"What the more seasoned riders understand is that the real measure of a good rider isn't how fast you go or how much air you get; rather, it's how you carry yourself on the trail."
It's great that we're having success around hrm with more sanctioned trails, but we need to be respectful of all trail users - we could easily have our privileges revoked as well.
in Los Altos Hills, California, after complaints about reckless riders, the city finally banned mountain bikes from one of its parks after reviewing rider speeds on Strava.
(cough)noStrava(cough)
Perfect example of how strava can ruin good things. I can see why It's great for your own personal stuff, and surely it does have its uses… but blasting certain things online is never good. That comes down more so to the fault of the user however. I say If it's sanctioned for mtb let your strava flag fly, but one should always consider the repercussions of too much attention being spotlighted on trails.
One can make their rides private on strava. I do like strava for the stats available and the ability to compare performance on specific trails. I also like to compare with previous years.
I do see the downside of technology and strava though. My road rides rarely leave from my house according to strava and certain rides are private for sure.
Making rides private on unsanctioned trails is a start but you are still blowing up trails if you don't go to your privacy controls in the settings and uncheck "Include your activities in Metro and Heatmap"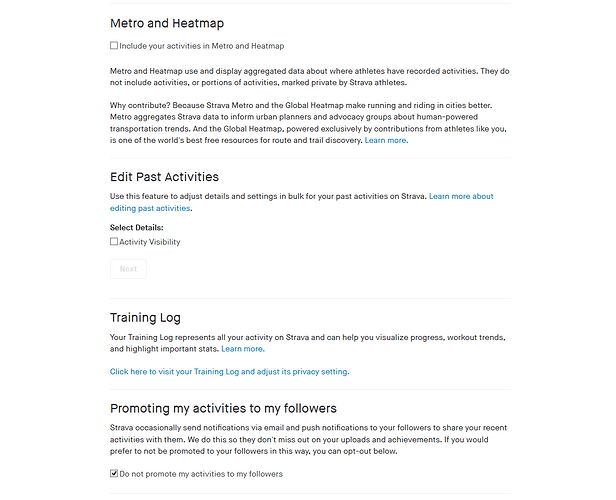 Ah cool. I had Heatmap turned off, but missed the "promote my activities to my followers." Probably not a big deal as my default privacy is that rides are visible to me only, but good to know in case I ever decide to actually use Strava.
regardless of your other privacy settings allowing strava to use your data contributes to the global heat map which blows up trails.
Right. My Strava wasn't contributing to the heatmap, but was "promoting" whatever non-visible rides to my followers.
Here's why I use Strava: the software for my watch has an option to auto-populate Strava. Strava has an option to auto-populate TrailForks. So I keep Strava private and invisible and use it as a means to update TrailForks without manual intervention.

If only the people who used to get their balls in a vice over a dinky local trail guide could see the future. Lolz.
Speaking of which, I ran across my old copy not too long ago… circa 2006-ish I think? Fun to look at and see some trails that don't really exist any more I don't think.
Nice, I have some from 1993 and 1994 (and some later ones) I can't believe what passed for trails back then, some were borderline gravel grinder terretory.
That made me LOL.