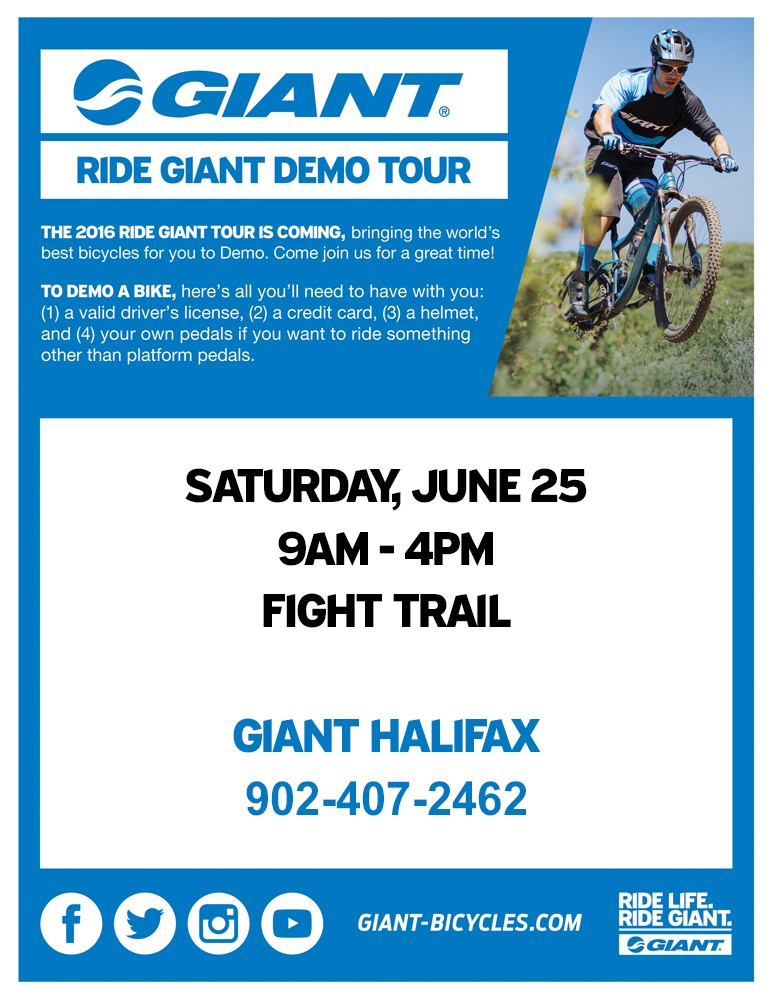 Awesome but I work that day
So what's the dealio? Do you just ride for a couple of minutes or are you able to take one for a couple hours. How does this work?
There is no real time limit per se, but most folks take a bike out for 20-30 minutes and come back and try another one.
I'll be testin' out a swanky new Giant tomorrow at Fight Trail.

@muddy I was just talking to Andrew who manages Giant Halifax. We want people to take the bikes for a good rip to get a feel for the bike, but in saying that a couple hour ride probably won't be in the cards. I mean if it is dead when you are there it might be a different story, but for now a multi hour ride isn't really an option. We don't know how busy it is going to be, but the earlier people get there the better the bike selection.
I am going to be recommending Lou's basement to people, especially if they are new to mountain biking or don't really know the trail. Its a good loop that will let you get a good feel for the bike. But if someone who knows the trails wants to go climb the Halifax rock and then come back down, or go climb up the flat lake decent and burn back down then by all means.
From what I understand the demo truck has Trance's, Reign's, and Anthem SX's, along with some ladies LIV bikes. Sadly I won't know for sure or how many of anything until I see in the truck tomorrow.
I should be there most, if not all day, helping with setup, answering questions, showing people where to go, or just going for rides with people if it's slow. Hope to see lots of people there, and if you're looking for me Ill be the giant on the brightly coloured reign.
Hopefully this makes thinks a bit clearer, if not let me know and i'll try and answer any questions or i'll find the answer out.
I look forward to meeting you then a.mart