Such a good idea posting this,



Maybe do a reverse image search as it doesn't look like a recent picture.
I don't know how to on my phone.
I sent the guy a message earlier asking for details — model, year, size etc. Got this back:
2020 it's the 4500$ one I think the altitude a30

It's an XL but I put the shorter stem and wider bars so it's like a large now
Yup, little sketchy.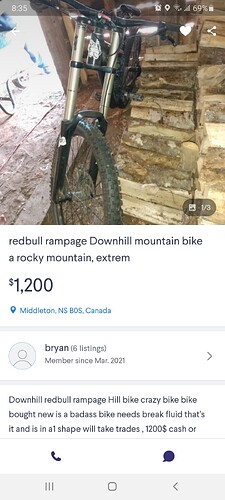 There's also this one. Claims to have bought it new, says it's a Rocky Mountain (actually appears to be a Scott Gambler) but doesn't know the year or size. Says he can't use it anymore because he broke his back, then claims he's selling it for his cousin.
I don't trust any ad where the dollar sign is in the wrong spot.
Could be a French thing though–they place the dollar sign after the number. And use a comma instead of a period for the decimal. Insanity.
I never though about that. My French skills are non-existent.
At least it's pictured next to a nice woodpile!
Les francophones sont fou.

Apologies if I murdered a conjugation there.
Lol, esti calise! Tête carré!
Your feet are thirsty?
Same buddy. Same.


What about this one it's on fb marketplace
300 for a dh bike and is it just me or does it look like it's setup as a reverse mullet
Yeah, I see that all the time.
Might be the angle and the front tire has been flat for a few years.