So the Glenbourne pump track is getting a major facelift, thanks to @nimzie and crew.
Oh, wow! That looks fantastic! I think I'll be paying a visit on Wednesday evening, weather permitting.
Awesome! Have to check it out!
Updated the list with Brunello and Laurie-Lively Park.
Was at the Laurie-Lively Park Pumptrack this evening. It was good fun - found it a little harder to get up to speed than Glenbourne, but once up to speed, the berms are quite big, and allow you to carry it.
Hi,
i will go to the New Scotia and i have question is somewhere in New Scotia some group of people who like to ride bikes like pumptrack or slopestyle.
Thanks for answer.
Hello, @Andy223. Welcome to ECMTB! There isn't much in the way of Slopestyle around Nova Scotia. We don't have a lot of mountains. We have a lot of smaller hills, so we don't have a lot of descending, and the ski hills haven't had mountain biking here for a long time. We do have a few pumptracks, and lots of small dirt jump parks. I really enjoy pumptracking, but I'm not a great jumper, and don't do tricks. There are a few jumpers on ECMTB though. If you're looking for slopestyle, downhill jump lines, Keppoch would be the closest to that style of riding, I think.
Slopestyle isn't really a thing here but dirt jumps are. Go hang out at Mt Edward or Glenbourne or maybe Fall River. That's where you will find the serious dirt jumpers.
Most of the DJ riders switch to riding skateparks this time of year because the dirt is too wet. There are several around Halifax, Dartmouth, Spryfield and Fall River
Took Rosemary Drive Bike Park off the Inactive list. It's now the Laurie-Lively Park pumptrack.
Hi thanks for respond. See you next year.
Silas Quinton and Leeward in Hammonds Plains are both in poor condition.
The best parks are worked on an maintained by the people who ride them, that's why Mt Edward and Glenbourne are still good.
Where in Hammonds plains are they?
Silas Quinton is in near MSMS, it's also called Maplewood. Leeward is on Leeward Ave. In Highland Park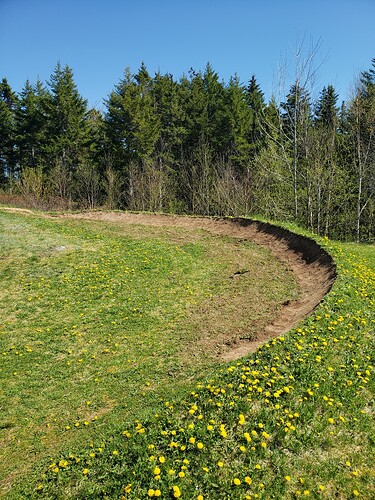 I cleaned up the first berm and started working on the first jump at Leeward. The ground is pretty hard right now, so I won't be digging again until we get some rain.
Thanks for the update and the work!