Happened to notice this in the latest BNS newsletter
Tour De Goretn=HH-R
Anyone know what the format of this event is going to be? It doesn't say race, so maybe just a weekend of riding and brews.



?
Event passes are now available on the Empire Trails website.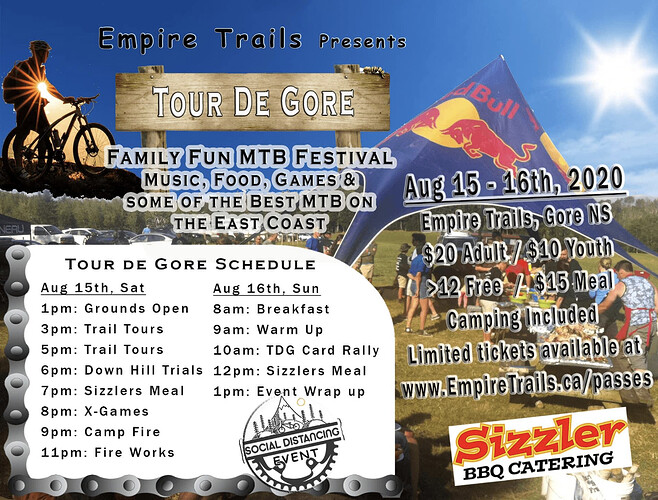 Worth it just for the pig roast.
Umm no pig roast as such this year. At least not the whole pig like years past.
Sizzlers barque will be providing the food if you so desire.
Perhaps the bigger news will be the introduction of a new downhill trail if the bridges can be finished in time for the event.
Cautiously optimistic at this point.
I do like downhill, you're got my attention!
I'm sure it will be great just the same.
So something is happening this weekend in Gore. It may be nothing… But it could be something!!!
There is a MTB festival and y'all are invited.
Camping and biking and fire.
Need I say more!!!
Oh wait there's more?!?!
The festivities start Saturday at 1.
A bunch of us are heading up Friday night to camp both nights for those interested.
Saturday:
The 3pm group tour is for beginner/intermediate level riders and will be led by elledee and myself. elledee will be throwing in a skills session for the ladies on this ride as well.
The 5pm group ride is for the people who want to go a little quicker and you will ride all the singletrack at Empire.
The DH trials is all about y'all giving the new DH run a go. There have been a lot of people working on this trail the last couple of weeks and it is really looking fanfeckintastic!!!
The Sizzler is cooking up a meal for the hungry among us so don't forget a little cash if you didn't sign up for the meal in advance. Once you smell it you gonna wanna have some cash. Just sayin!!
The night time X games stuff will basically be bike games for semi drunk people!!! We have a few good games lined up. Always lot's of humor… Except when Doug gets naked… good feelings gone!!!
The camp fire will end up being a Bonfire cause darkmyth will be there. I hope the forest has enough trees to keep up with his habit!!!
Mike's sayin there will be fireworks. Not sure if he means the kind in the sky or him and Emmett fighting over who wins the bike toss!!!
Sunday:
Poker Run AKA TDG card rally. In the year of Covid we are not really allowed to do timed competition. So ya have from 10 to 1 to collect cards to make a poker hand that will win all the chips. In this case Humpty Dumpty Barbq!!! Just kidding!!!
There will be another Sizzler meal around noon
We have some sponsors to help with prizes.
Big shout out to Sportwheels, Halifax Cycles and Labatt's.
Keep these companies in mind as you are stocking up for the weekend and keep Keith's in mind for those post ride beers.
So y'all come on out to the farm and have a time of it.
Hope to see you on the weekend
Oh and bring your headlights cause at some point someone is going to say "we should go for a ride now" when it is dark and you are half cut!!! Ask darkmyth about the porcupine!!!
Any families w kids headed out there this wknd?
My boys are into campfires and ripping around w other kids so might be cool if there was other families hitting it.
Lots of history at Gore Fests over the years although some of its hazy lol.
I've said for years let's just have a festival instead of a race. This is your guys and girls chance to prove I wasn't crazy.
There is literally something for everyone this weekend and the theme we are looking for is chillaxeation.
We will ride our bikes on great trails including the world premiere of the ravine. We will hold our cold beverages high and drink to the trail gods. There will be food on hand when you get the craving. We will keep the fire lit deep into the night and entertain ourselves with tall tales and mad skills.
Come the morning it's back on the bikes for the poker run.
Like I said something for everyone.
And I just want to say the whole thing about me and fires is completely over exaggerated.
But the tumbling porcupine getting run over
That was funny as hell. And the quills in tommy boys tire the next morning was proof anything can happen in gore once the sun goes down.
Accidentally previewed this last weekend… it's gonna be sweet!!!
So I was up in Gore last night working with the trail elves.
The new Ravine DH is done. Faassstttt!!! Zoom Zoom…
The idea behind this whole thing was to hopefully get families involved in a non competitive fun for the whole family kinda way. darkmyth and I have been trying to do this for years and Covid of all things got us there.
Streetgang, I am wishing upon a star that is the way it turns out!!!
According to the traffic we are receiving via other outlets we do have a few families coming.
I have had a few ???s about the weather this weekend. It's Nova Scotia for cryin' out loud!!!
Just wait 5 minutes would ya!!!
The trails we are using for the Poker run will be fine if we do get pouring rain. We may have to keep people off the new DH run on the Sunday if we do get any real rain. It looks right now, in Kennetcook, like we might get some thunder and lightning Saturday evening but that rain will only last 10 minutes and make everything at the Empire tacky for that night ride… It is really dry in the woods right now. The Sunday weather has already changed from rain back to sun.
See, just wait a sec!!!
This is shaping up to be a great weekend.
Can't wait to see ya all and swap Covid stories.
I will be dropping by at some point, but I will not be able to ride I'm afraid.
New event poster with sponsors. Looks like a skills clinic has been added as well.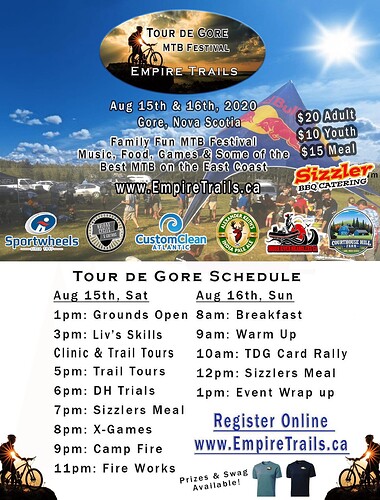 www.empiretrails.ca
Looks like fun, with something for everyone. Maybe people should definitely check it out if they are free this weekend.
I'm in.