I am planning a longer ride and I am curious what people choose to carry on longer MTB rides.
Spare tube, lots of water, tire leavers, mini pump, Muti tool
A cliff bar, water, spare tube, CO2, multi tool and maybe an extra shirt depending on forecast.
Funny, I just had this conversation a couple of times in the last week!
I was stating that I was surprised that so many riders are carrying minimal- or none- things they need to finish rides.
Regularly I see guys walking bikes out of the trail and it goes like this: "hey, you ok?" "Yeah, I flatted" Changing a flat is 2-3 mins for a well experienced rider w a CO2, max 5-7 mins for anybody with a minipump.
I'm a fan of the following at a minimum: tube, tubeless tire plugs, minitool w chain tool and quick link (and know how to use them), tire lever, minipump and adequate fluids.
Feel free to add $20 bill (post beers, mid ride nutrition and also works as a tire boot), first aid, food.
Doesn't matter if you choose to carry it in a Camelbak, a race vest, a waist pack, your jersey pockets, seat bag, an enduro strap, etc but carry it.
The tools you need for a 6 hr ride are no different than those for a 45 min ride. Obviously you need more food and fluid for longer rides. And don't assume your buddy will have stuff to bail you out, I've seen lots of rides where multiple riders stood around sheepishly looking at each other "I thought you carried a pump? No man, I thought YOU had it!"
An old adage "You don't need it til you need it and then you REALLY need it."
I always carry water, energy bar, multitool with chain breaker, quick links, tire levers, tube, CO2, sidewall patch, spare derailleur hanger, several zip ties, pocket knife, first aid stuff (bandaids, gauze, antiseptic wipes).
Spring/summer I add fly dope and sunscreen. Winter I add an extra pair of gloves and a buff.
I ride with very little most of my rides are 2 hours or less. I don't like wearing a back pack so use a hip pack.
I carry glue patches, tyre boots, plugs, tyre levers, a decent mini tool, 2 x CO2, chain lube, knife, quick links (probably 11 speed still), zip ties and honey stinger jelly's.
I only carry a 700ml bottle.
On longer rides I'll also use an adventure strap with a mini pump and tube.
For short rides, I take a water bottle, tube, tire levers, multitool, and either a co2 or a minipump all attached to the bike.
On longer rides, I take a camelback with enough water and snacks for longer than I plan to be out there, a pump, patches, zip ties, miniroll of duct tape, plugs and valve cores, small first aid kit, a light, swiss army knife, and a small rain poncho or if its colder/more likely to rain a proper rain jacket.
My list is similar to @Rolls .
I also like to be prepared for an unplanned night out, if I get lost or injured:
-extra water
-Headlamp
-fire starting material
-space blanket
-heavy duty extra large orange garbage bag (for shelter/poncho/water collection/signalling/flagging)
-whistle
-beer koozie (doubles as ankle brace, or collar and cuff sling when used with a tube)
-long socks (can wear over feet or hands)
-hand warmers and a toque in winter
This is for sure a popular topic.
I factor in the duration, heat (more important humidity) and location of ride, and if its a longer ride are there areas for water stops, or places with food, or the possibility of re accessing your transport.
Only time I bring a pack with spare everything is if im going into Narnia and their are alot of unknowns.
That being said, there is alot of kit out there right now that allows a minimal feel, but you still have everything from bibs with pockets to edc storage on your bike.
Like Terry pointed out, its useless if you dont know how to use your tools.
If I was to classify the most important tool in the tool box for a "long ride" it would be your nutrition.
Cheers
I've added a mask to my carry on.
Other than the sidewall patch (probably a good idea around here), I carry all of this, plus a shock pump. I always ride with a pack, has saved me a time or two falling backwards off the bike.
In my Hydration pack I have with water, extra chain links, quick links, chain tool, a set of hex keys, tire patches, a tube, derailleur hanger, shock pump, portable water filters (just in case) a flashlight and whistle. In my seatbag I have 2 more tubes (I've double flatted before) pump, CO2 cartridges, tire levers (with attached beer bottle openers just in case) zip ties and a small first aid kit. Then in my jersey I have my multi-tool (which has a knife, spoke wrenches, hex keys etc.), cell phone, hard wallet case with ID and bank card. I also carry a large bottle of water in a cage on hot or humid days.
Couple of things I haven't seen mentioned but needed for long rides are tape, I wrap a tube up with electrical or thicker PVC tape, and a small rag. I carry chain lube because I f it's a long ride in the rain or with stream/ river crossing lube can get washed out and then the chain can dry and seize. The tape is just a really good nice to have (along with zip ties) when needing to do trail side repairs.
And in New Zealand if you're ever going back country with out cell phone coverage it's recommended you carry an emergency locator beacon. They don't seem to be as prevalent here but in NZ if you set of a beacon off they will ring the contact number on file and unless you respond they will send a helicopter.
What's in my bag changes with the season, ride location, and duration.
Here's what lives in my bag, swat compartment year round.
Most common tool that gets borrowed on the trail is my shock pump.
Thanks to this thread, I realize I need to renew my first aid supplies and why am I the only one carrying TP??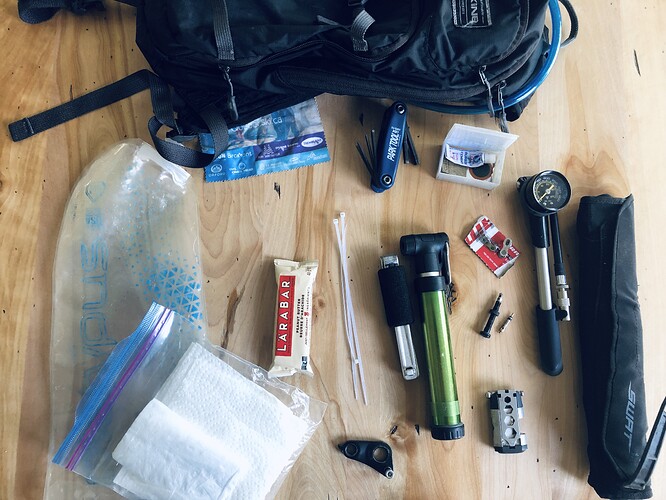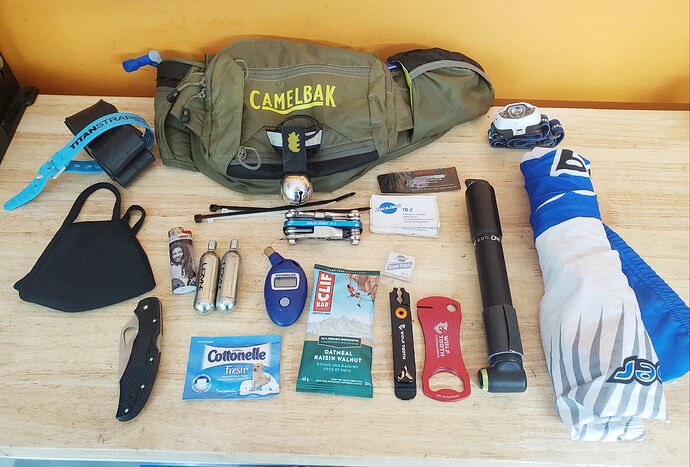 Here's what I typically carry for an MTB ride:
OneUp EDC pump that contains a multi-tool, CO2 head, chain pliers, and a plug kit
a tube
2 Park TB-2 tire boots
Park GP-2 super patches
Wolftooth chain pliers (with two quick links and a chainring bolt)
Wolftooth rotor truing tool and bottle opener
2 16oz CO2 cartridges
Clif Bar
Schwalbe pressure gauge
Park I-beam 3 multi-tool with a chain tool
Assorted zip-ties
a wet wipe (also good for cleaning wounds)
a lighter
Spyderco folding knife
Rona mask
Marzocchi windbreaker
Headlamp (optional)
The tube is strapped to my frame, typically with a tire lever.
The OneUp pump is also frame mounted. It holds pretty much everything I could need on a short ride and I will often just carry it, a tube and a bottle on short rides. I keep a few wraps of 3M extreme duct tape on the pump as well.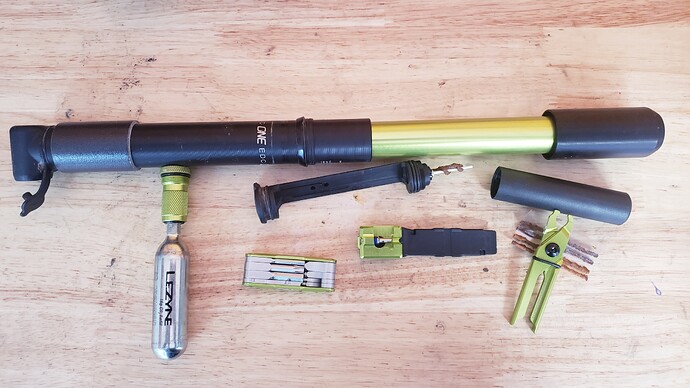 Everything else fits in a Camelbak Repack.
For really long rides I'll carry my Osprey pack with a second tube, more food and a First Aid kit.
I forgot, also spare pedal cleat bolts. Rarely needed but certainly sucks to have one fall out and not have a spare one!
I had a cleat bolt fall out halfway through a 120km road ride, luckily I had a spare.
This sucks. I once was on a lunchtime ride and my bolts came loose. I couldn't unclip at all and by this stage I was back in the middle of town. I was lucky in the end I ran into another cyclist I knew so I got him to undo my shoe.
I like that rotor truing tool.
I've been on a ride with someone who bent a rear rotor. The only solution at the time was taking the rotor off and switching the front to the rear so he had at least one brake.
I am definitely one of the people who runs bare minimum when I ride, most of my rides are sub 15km and other than the day I got double flats I've had pretty good luck with my minimalist setup. Once I ditched the pack I just couldn't go back.
I realize the original post was about carrying stuff for longer rides, but its still fun to see what everyone carries in general.
I carry a OneUp EDC tool in my stem with a co2 cartridge and then I carry a very small EVOC pack in my frame with a tube, 2 tire levers, co2, and inflator.
I carry a water bottle in my frame and maybe a snack in my pocket. I also drink a full bottle on my way to the ride.
The only thing I want to add is a bacon strip plug kit and I need to replace the quick link I robbed.