My latest bike is a 2016 Specialized Stumpy Semi Fat. What does this semi fat mean? Essentially it means that the bike geometry has been modified to work with a 27.5" (or 29") tire that is 2.8''- 3" in width.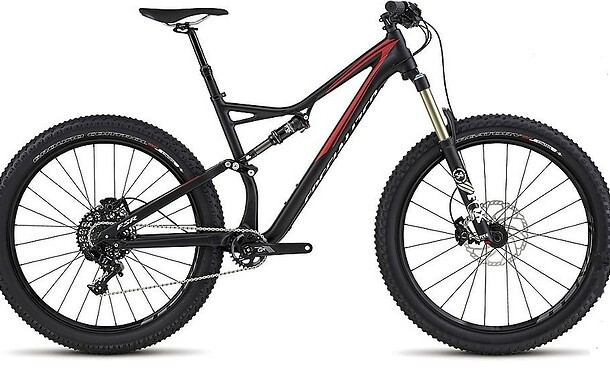 We have all heard of using wider tires to get more traction or to smooth out the rougher parts of the trails. It was commonly referred to as 'poor man's suspension' when front suspension first came out way back when, So, this is not really a new thing you say. Well the idea is not new, but the execution of the idea is.
A Little Background:
To accommodate a wider tire with today's front and full suspension bikes the frames and forks had to be redesigned. We have become accustomed to stiff front forks and axles, and powerful brakes. A properly designed frame and fork can make or brake a bikes' ability to handle the trail. It's not enough to just put wider tires on a bike.
Impressions:
I've been fortunate to be able to ride a lot of different bikes and I have to say that the 27.5 plus (semi fat) bikes are by far my favourite to date from the first ride. The ride is smooth, very smooth. The tires have a maximum tire pressure of 20 psi, and when pumped up they roll fast. Climbing is a little less efficient, but hardly worth mentioning.
For winter riding it is definitely better than a 2.25" tire and is more than capable on trails that have been beat down or has a solid base. This would encompass the majority of trails in HRM. In the valley, with less traffic on certain trails a fat bike is easier on the fluffy stuff or when breaking trail. Same thing in the mud or generally looser conditions. The 3" tire allows for more traction and control.
Tires options are becoming more available and will continue to grow in the future along with fork, rim and hub options.
Change it up
One really nice thing about this 'wheel standard' is that if you wanted to switch it out and put narrower tires on you can. I was even told by a certain bike rep that the first 27.5 plus bikes they researched was essentially their full suspension 29er. Providing other factors (brake rotor size, axle width etc) line up, it is entirely possible to put a 27.5 plus tire on some 29ers and vice versa. Again making a super versatile set up.
Specialized
I have the 2016 Specialized Stumpjumper Comp model. It is the entry level full suspension 27.5 plus model that Specialize offers. It is well equipped with a dropper post, 1x11 SRAM GX drivetrain, Shimano Deore brakes with ICE Technology pads and larger front rotor, and Fox suspension front and rear. This is admittedly my first Specialized bicycle and have always in the past been vocal about their pricing. I REALLY LIKE THIS BIKE!
The geometry is great, the specs are great, and it looks great. Yes, it's more expensive than other brands but the quality is undeniable. Specialized does more research than many other companies and it shows in their products. I have slowly become a big fan of Specialized bikes, helmets and tires particularly.
2016 Specialized Stumpy Comp 6Fattie
I would be happy to have this as my only mountain bike, however, I will keep my other ones just in case a friend drops by without a bike.