Don't want a ccm.
Medium and price range is 300$-500$
Im new . Just a starter bike
Thank you everyone
For a starter bike: minimum requirements in my book might be:
hydraulic disc brakes
functional fork
Maybe others have suggestions.
What size frame are you looking? I'm guessing medium?
Yes medium fits best… thanks for support
How tall are you Majid?
I ask because I have a dual suspension 2013 Kona Tanuki Deluxe for sale, but it is a large.
My trainer, who is 5'9" used it with out trouble.
It has BB7 mechanical disc brakes, 160mm rotors
XT rear derailleur
SLX front derailleur
XT integrated shifters and brakes
Marzocchi Bomber fork 140mm travel
Monarch RL rear shock 120mm travel
9 speed x 2 chainrings with bashguard
Brand new SRAM chain (not used)
26" wheels, 9mm quick release
Vredestein Black Panther Extreme tires (tubed)
Alex Rims
Similar to this, but not exact
http://2013.konaworld.com/bike.cfm?content=tanuki_dl
I am 5,8
It wouldn't be to large for me? Maybe I can come see it. How much are you asking for it?
Hello Majid,
It is a 19" frame and the reach is about 10mm longer than a medium, but that depends on what you call a medium as the Kona sizes don't give small, medium, large. Looking at the specs in the website I provided below, Kona offered the Tanuki in 7 sizes from 15" to 22" and that means the 18" was right in the middle, for I assume, a medium. So this one I have is one size up from the medium…extra medium?

Also note that the components shown in the website are different than what is on the bike I have. I bought the frame but build the bike with my own components.
You can check out the Kona Tanuki specifications here:
http://2013.konaworld.com/bike.cfm?content=tanuki#2
I'm asking $600 BUT I do live in the Chezzetcook area which is about 25 minutes east of Dartmouth.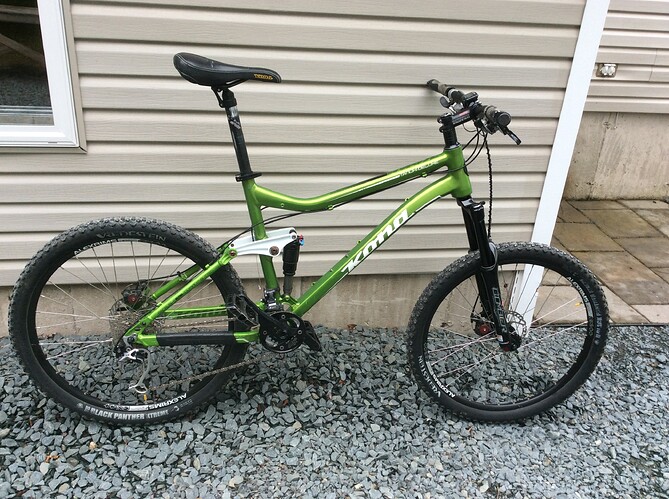 It looks great ! When can I come take a look at it?. I rode my frienes bike it was a 29" and I really enjoyed the larger rims. How is the weight ? But i will come take a look maybe it ends up fitting my size.
I'm sorry Majid, I sold it yesterday morning.