Wow. $1200 in prizes? Also didn't realize the Gorge was that old. Hopefully there will be more races in 2022 than 2020 and 2021!
I though we raced in the Camelot Campground back then…
I think that was just one year, maybe two. I can't remember if gorge and Camelot were held in the same year by different organizers.
I love it! Best part is how people could fax for more information
That was just the ca$h prizes, merch and swag as well, plus a t-shirt.
This post is perfectly timed, was in the attic earlier this week prepping a leaky window for winter and saw some old trophies. Saw this post so went and dug 'em out!
This event ran in 96 and 97 in September. Three stages- TT Sat afternoon, fat tire crit Sat evening, XC on Sunday.
Brian Adams of Framebreak Bicycles in Kentville was the organizer. Lots of racers and tons of hype helped get some solid sponsors on board too.
It was incredibly muddy in 96 cuz a hurricane rolled through in the preceeding days. The fat tire crit was always an absolute blast and circled the main block of dtown Kentville.
The TT ran through the sandy terrain towards Coldbrook, the old railbed and the bird sanctuary and finished on the track by the ballfields.
Good times!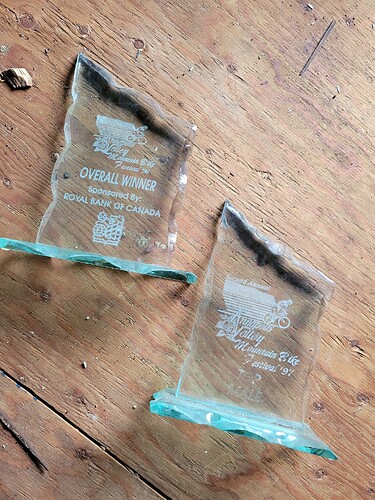 Camelot ran in the Spring, Kentville Stage race in the Fall. Same organizer.
I think Camelot might have only been in '97.
Way back before the internet bike shops would have posters and brochures about upcoming events. And events were relatively inexpensive and included a tshirt. Dollar Lake was used a few times by different organizers but every time it was a mudfest, hence the reason why we referred to it as Dollar Swamp. Still a great time, though. Because bikes.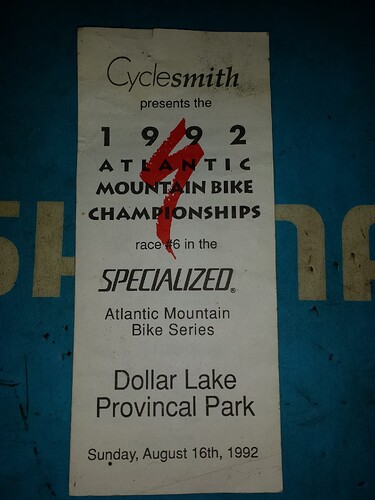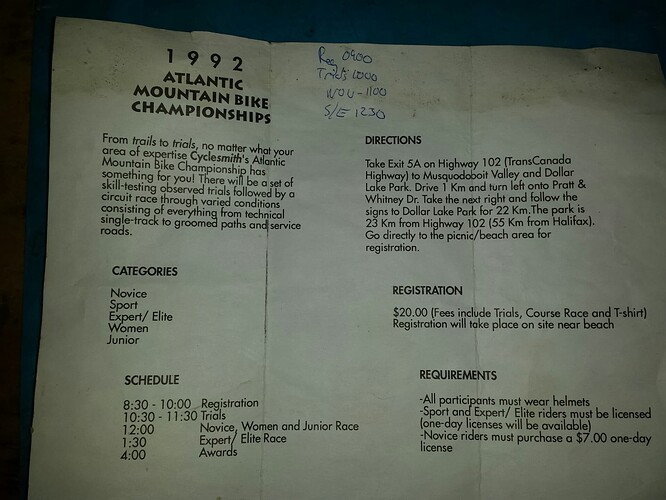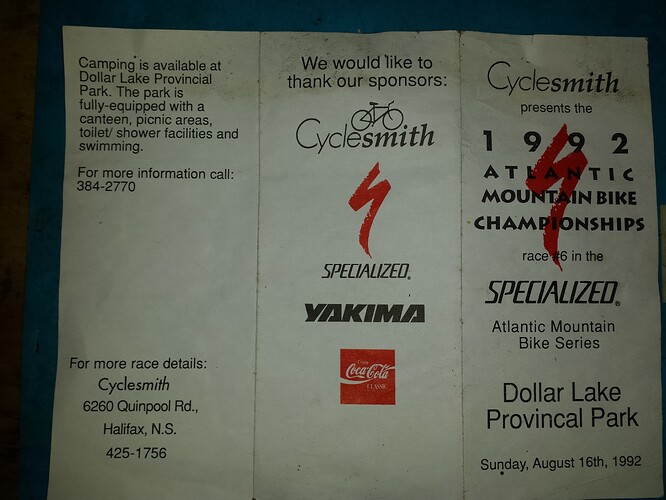 h
I think 1998 was the biggest year for MTB in Nova Scotia. Missing are the MTB Provincials and Atlantic Championships (Brookvale)