Designing a multi-use hiking/biking trail in Keji this summer, to be built in 2019. The Fundy offer is quite unique to the east coast, I recommend taking a spin up to ride it.
@glenfidich good stuff. I heard about the proposed Keji trail upgrades, nice to know it's moving along.
Not much info on this page, but there is a link to the trails on which mountain biking is allowed. The only two I've done are Whitetail and Black Horse. They were very fun.
Trailforks is probably the best source. Looks like it's been updated with the latest at Fundy. The new pumptrack is there too.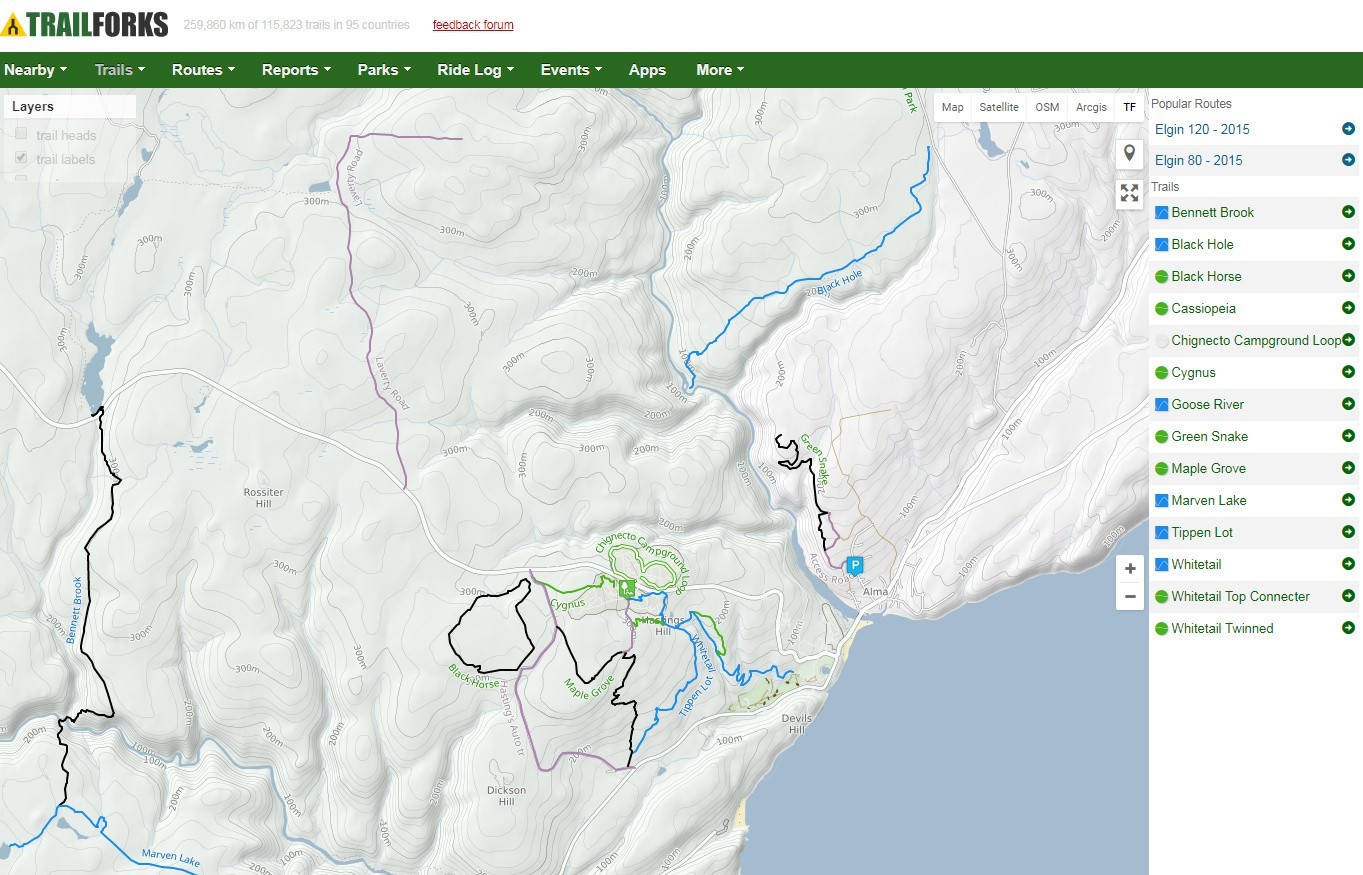 Purple square at the top is the pumptrack. Yellow and green are trails. Not on the map is Whitetail on the right, and Black Horse on the left. Yellow dot is a bridge.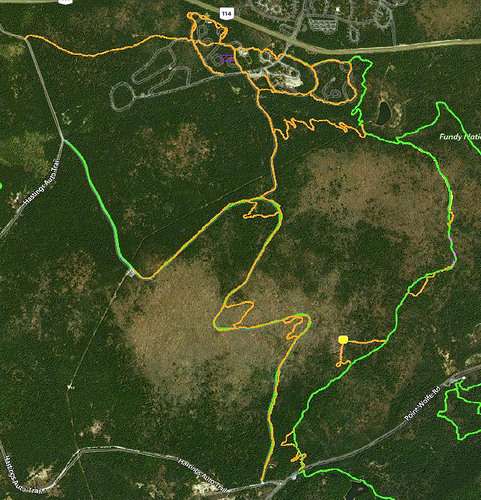 Maple Grove should be Blue trail, Whitetail should be Black…imo.
Yeah, there is a section of Whitetail that I would certainly consider to be black. I took my nephew down it a few years ago and was concerned, but fortunately he was cautious and rode it very slowly. From the Trailforks map, it looks like they have a bypass around that section now.
I only rode up Maple Grove. You could certainly get some serious speed going down it, but it's pretty wide open since its an old road.
The bypass you talk about is intended for hikers/bikers traveling up, as bikers can reach some pretty insane speeds on the decent along the original section. The bypass has some good flow going down though.
Maple Grove has been converted to single track, and is one of the more fun flow trails I've been on.
Had a chance to ride some of the new trails under construction at Fundy last year. Definitely looking forward to seeing them finished
I didn't realize Maple Grove was converted. I hope to get back there this summer.
Was there last year and already have a campsite booked for this year. I had a good chat with the builders last year and rode all the new stuff then, it was a bit fresh but fun and it will only get better with age.
The bypass on Whitetail is a blast descending, so much speed, rollers and some berms. It cuts off the straight down the hill techy part, probably for the best even though it is fun. I think Whitetail should be a directional trail, downhill only. Too bad it's a bit disconnected from the rest of the mtb trails once you get to the bottom.
Maple Grove is so much better now that it's been modified, Its a fast descent without much technical but I see it more as an interesting climbing trail to access Cygnus and Tippen Lot. Tippen Lot is some fun descending. I suppose Hasting's Auto is supposed to be the climbing trail, I didn't ride it last year.
Black Horse is kind of a bore, but good for kids or family rides.
I ended up on a section called sugarbush or maplebush something like that near white tail for a bit, was decent as well. Was there a week or so after you. Was all still under construction so signage coulda been tentative
You're correct, it's Sugarbush, and something thats called the Red Ski Trail connecting the pumptrack to the midway point of Maple Grove (potential to change the name of "red ski trail"). I like climbing Hastings as it provides the quickest, most gradual way to the top so you can spend all your nrg going down. There's a new building that was built adjacent to the pump track that will soon have the facilities of a bike wash station and repair stand, as well as a tool shed and water supply next to the pumptrack so riders can maintain the track when it gets damaged.
You right about Whitetail dumping you out in a random parking lot, but there has been talks of setting up a shuttle service from that parking lot to get you back up the mountain.
For a mountain biking family it really is a unique destination that you can go for one or two nights and have a blast.
I was fortunate enough to have camped right at the top across from where whitetail starts and my wife ran shuttle for me from that parking lot

Stoked to hit up Fundy for camping and biking next week!
Most of my rides will be with the kiddos, although there's always a chance If I'm behaved the boss will let me go for a ride or two on my own.
Usually I bring the singlespeed, but now wondering if I should bring the double squish instead?
Its a big hill so I'd go double squish. White Tail is a blast. Starts at near upper campground and ends at the lower one. It's leg burner back up though.
Pump track at the top is super cool too.
It's a pretty relentless climb no matter how you climb it. Gears are recommended. As for the "singletrack" it's not at all technical, mostly gravel and rock. Tippen Lot has some cool rock gardens. I'll bet the pump track is most peoples favorite trail.