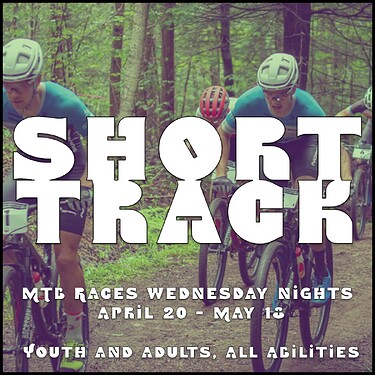 The Kentville Canada Cup Club is hosting weekly short track this spring on Wednesday nights from April 20 to May 18. All proceeds support this summers Canada Cup race and trails in Kentville.
Weeks 1 - 3 start at the fast, flowy and fun Bottle Rocket trail at Memorial Park with weeks 4 and 5 taking place across the road at The Gorge to give riders a new challenge!
There will be events for riders of all abilities and ages! Volunteers are welcome, if you are interested in helping out please feel free to let me know

Race Categories and start times:
Ages 10 - 12 / Ages 7-9 15 minute race 6:00PM start
Beginner / Masters 50+ 20 minute race 6:30PM start
Experts 25 minute race 7:00PM start
Suggested Minimum Donation - Fees cover the whole series!
Ages 7-12 $20
Beginner / Expert / Masters $30
Sign In:
Event sign in and parking for weeks 1 - 3 are off of Gary Pearl Drive, Kentville, NS. Please park in the parking lot above the Soccer Dome. Sign in for weeks 4 and 5 will be at The Gorge, 56 Gladys Porter Drive, Kentville, NS. Please sign in on site at least 15 minutes before your race start.
On-line Registration:
Prefer to register in person? No worries, you'll be able to sign up on site too