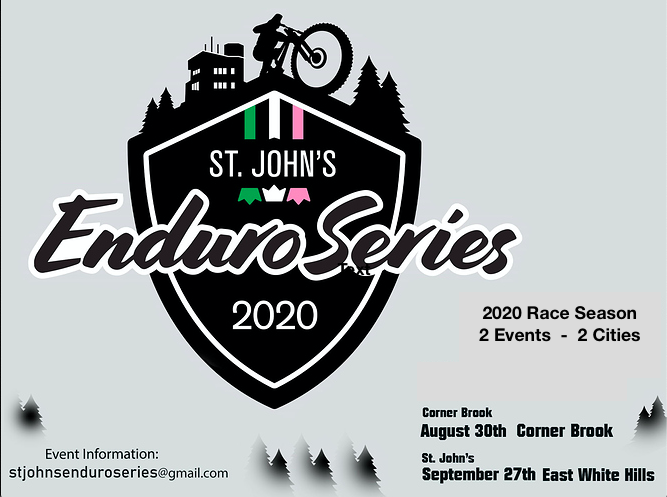 UPDATE! Registration for SJES 2020 is open! heres the ling to get registered. https://ccnbikes.com/#!/series/2020-st-johns-enduro-series
2019 was the birth of SJES, an Enduro MTB race series which consisted of 3 events within St. John's, NL. Our small team of just 2 organizers has grown since than and with our numbers of racers for our last event last season being up around 60 with 25 to 30 being under 19, we anticipate great growth for this upcoming season. We plan to have 3 events (dates to be confirmed very soon), 2 in St. Johns and 1 in Corner Brook. These races follow the Enduro format which consists of untimed transfer stages that lead to or from our race stages, and timed stages consisting mainly of downhill single track of varying difficulty. These transfer stage rides can be taken at your own pace but the overall event will have a time cap but ample time is given to allow riders to group up and transition together. This style of racing makes for a great day on the bike with competitive racing and group riding mixed together. Much like EWS, each event will have a podium with 1st 2nd and 3rd places but a points system keeps track of the race results allowing an overall series winner and podium finishers after event 3 in September.
SJES2020 is bound to be a great time as it was last year. We hope this reaches some of you who are looking to race on the east coast and would consider the trip. Registration will be open within the coming months and a formal post will be made when dates and locations are completely confirmed. You are officially invited to come race in SJES2020. follow @stjohnsenduroseries on instagram or find our Facebook page (website coming soon) with tag "SJES2020" .
** COVID-19 UPDATE**
Well Folks, it has been a roller coaster of a spring, and now summer. Covid-19 came into our lives unwelcomed and is lingering like a bad smell, and it stinks!..
BUT, the SJES team is excited (though guardedly) to announce that we will maintain our intentions to have SJES 2020 Event 2 in Corner Brook and Event 3 here in St. John's on the mighty White hills trail network. This means we must say goodbye to Event 1 in Pippy and stay fully aware and ready for the chance that Event 2 and 3 may also be exposed to some alterations as Covid restrictions are considered and as things progress in the coming weeks.
It is unfortunate that we must cancel race one (scheduled for July 12th) in Pippy park since last year's Pippy Park race was a great success and a lot of fun, but we are very fortunate to be able to keep our second and third events.
We are currently working on a plan for each event so that they are made safe and follow the Covid restriction guidelines. For this reason, we ask you to be prepared for some different formatting than 2019's season and be patient as we have been. We think the SJES Events are very important to a large number of mountain bikers in NL and we will put in as much work is necessary to allow all of us who are keen on the 2 wheeled machines to be able to get out and enjoy the competition and the social (distant of course) aspects of the Events.
We will update soon with registration information and further info not able to be delivered as of now. Also coming soon to the SJES world is a website dedicated entirely to the series made for us by a great dude named Adam West. We are looking forward to getting it up and running in the coming weeks.
If there are any questions, please feel free to email stjohnsenduroseries@gmail.com.
Go ride your bike! And for god sakes wash your hands!
-SJES Team