For all the paid strava members, what features are you using that make it worth paying?
I like to download other peoples GPS tracks to ride their route if it's a location I'm unfamiliar with. I believe this is a premium feature.
For me it's only the routing that might make me go premium. The route building experience is great, the heatmaps are super useful, syncs well to gps.
For now I'm using Komoot as an alternative (which is also great, but I still miss a few things about the Strava routing)
The only thing I use it for is the Beacon feature, to let my family know where I am when I'm commuting or riding solo.
I don't have a Garmin, heart rate monitor, or watt meter, so I don't need the training features or routing aspects, but I could see the value if you had the extra gear.
Personally I like the training features. I only have a chest mounted Garmin HRM to help determine efforts, but comparing efforts and fitness/fatigue/form levels makes me eager to get out more. I definitely find that when my numbered/graphed fatigue level is going down on the fitness tracker it gives me the extra ambition to get out for another ride to keep my fitness building- regardless of the weather, which is helpful for me to maintain and build fitness.
The numbers that are given for each of the 3 (fitness/fatigue/form) I find very accurately correlate with how I feel on the bike, so it sometimes also helps to explain "off" rides which could otherwise reduce my ambition to get out again afterwards. Now I know I just need to take it easy beforehand and what to expect. 20 years ago this level of analytics would only have been available to Olympic level athletes, so I feel the small costs are worthwhile for me.
Just to point out I am by no means a "racer" but more or less a weekend warrior that would be mid-pack in a pedal heavy group ride. My KOM hunting is non-existent as a result, and the only time I won't say "hi" to another group is if I'm late for dinner, or rocking down a fun DH section

I'm also very analytical in thinking and like to look at the fitness/freshness/perceived effort charts and values after a ride more than any segment times.
The beacon feature is my main reason for the subscription. I usually go alone and go hard at Wentworth. So I typically send a beacon to a couple buddies so that my body can be found

This beacon feature is what is pulling me in the most, but I do like the sound of the GPS access.
If anyone here has a Garmin GPS device they can go without the paid Beacon feature of Strava and use LiveTrack.
Send a text with a live link of your ride to what numbers or emails you specify. I've not used the Beacon feature of Strava, but I think Garmin livetrack is very similar (and free if you own a Garmin)
Beacon is 100% why I pay as well. I figure I spend a lot of time alone in the woods. It also helps when we're planning things to see where the other person is on their ride. When my husband got hit by a car while riding, I knew where to go because of beacon.
You can also use the "Find My" app on an iPhone. Choose to share your location with a specific contact. Once or twice it didn't end up sharing the location but overall it seems to work.
The training features are great for me to gauge progress and push harder
I travel a lot with work (in normal times) and love being to go to a new region, download a ride or route and load it onto my device to follow. It's like short cutting to the good stuff without the guesswork, wrong turns, dead ends and wrong directions of the old days.
Sometimes getting lost is half the fun 🤷🏻
I used to have a Strava premium account, but dropped it – in fact I barely upload anything there now.
For SOS and livetracking, I use my wrist garmin which syncs to the phone (or, rarely these days, my satellite tracker).
For routes in new places, I use Trailforks. I can grab someone else's ride log or gpx file, and use it as a route. Or, use one of the "Top Rides" for the riding area, which are automagically generated routes that TF creates based on the most commonly ridden trails (including directionality) over the past few years. Or, I use the routing function and make my own route.

I hear ya but having done the lost thing many a time it's been my experience that getting lost rarely delivers the romantic experience that the poets promise


I'd rather load and follow a killer route that looks like I'm biting off more than I can chew than screw around with getting lost.
The beacon feature is incredibly useful, provided someone is receiving that information. I'm a member of search and rescue, having something that can direct us to your approximate location is 100% worth paying for, just in case something happens. I use Garmin in my case to do that, have debated getting Strava though for the routing as well.
The beacon feature is the only thing on that list that would possibly make it worth paying for to me, other people may see benefits from the other features though.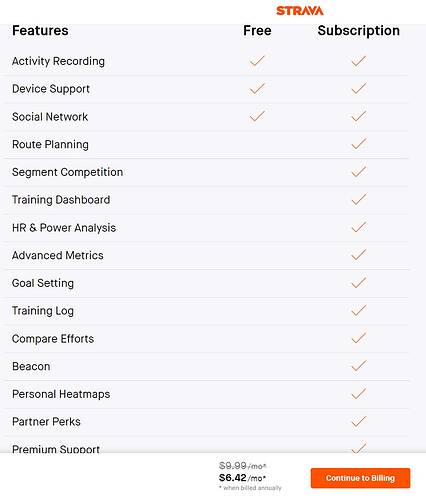 Have a Wahoo bolt ordered once I get that, planning to use my 1 month premium trial to see how I like it, like to be able to compare efforts and track progress and am interested to see HR analysis as well as the advanced metrics, goal setting and training log stuff.
May get a power meter in 2022, so something to help analyze that info would be cool.
I pay for premium primarily for the training features. I'm not actually training for anything, but like to see my progress, etc.
I don't need the Beacon feature as I have a Garmin device with similar functionality. You can also use an app like Glympse to do the same for free.
Same. Training and log of all the different activities you do. Being able to see leaderboards in terms of pushing harder instead of just comparing your own data.