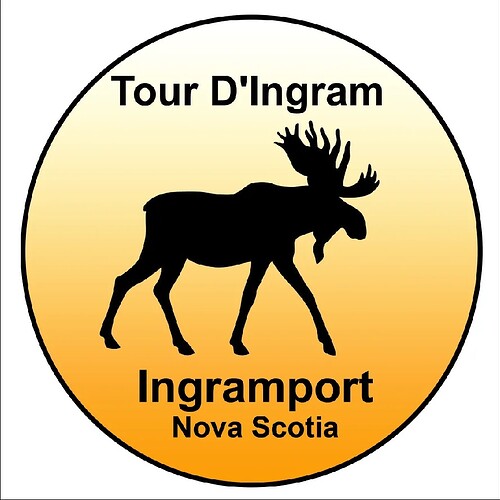 It's that time of year friends. The 2022 edition of the Tour D'Ingram is happening on October 9th (rescheduled). This ride is a 60km gravel loop on logging trails in the Western Crown Lands (Bowater).
This is a beginner/intermediate ride. There's no major technical challenges besides some loose climbs and descents, but there is approximately 2300 feet of climbing over the 60km route. The ride typically take between 2.5 and 3.5 hours. A gravel or xc bike is recommended.
Post-ride nutrition and hydration will be at Cavicchi's Meats in Upper Tantallon.
The ride starts and ends at Cavicchi's Meats
There is parking available behind the Home Hardware on Sonny's Rd. or at the bottom of the Bowater Mersey Rd. Please don't park at Cavicchi's or the Bike & Bean for the duration of the ride.
The plan is to depart Cavicchi's for 9 AM. It will take approximately three hours to complete the loop. Following the ride you are welcome to stick around at Cavicchi's for lunch.
This is a no drop ride. We may split the group if required, depending on group size and pace. Please download the track and have it in your phone or computer. There's lots of places to take a wrong turn on the route.
About the route:
The Tour D'Ingram is a 55km+ loop of the St. Margarets Bay back country. This route winds through the proposed Ingram River Wilderness Area on a series of maintained logging roads. The roads are generally in good condition as they typically get graded annually. There are wash-outs on some the steeper hills, and the section of Hiking Trail Rd. from the fork to Tote Rd. can often be rough due to traffic. Watch out for ATVs, trucks, logging equipment, and bear scat. Moosehorn Lake is a preferred stop near the halfway mark.
https://www.trailforks.com/route/tour-d-ingram/
**Ride starts and ends at Cavicchi's: **
Beginner/Intermediate
Notes: this is a self-sustained ride with no sag wagon. Bring enough water for three hours of riding. Bring food. Bring tools to fix a flat or perform any other minor trail repair.
[event start="2022-10-16 09:00" status="public" timezone="America/Halifax" allowedGroups="trust_level_0"]
[/event]
This is not an official ECMTB ride.