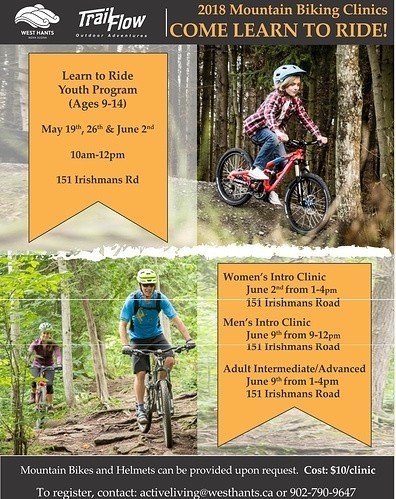 I think we have about a dozen in the program. Fun will be had!
Would love to go, but it conflicts with the kayaking course I'm taking.
Thanks Mr. Rolls!
Every one did great and also big thanks to West Hants for helping make the event and trails happen!
My dude had a blast again at the youth clinic at McDonald Sports Park today. Apparently @Pepperjester did some sort of log hop that's elevated him to Danny MacAskill status in his eyes!
Yes! Thanks to @Pepperjester and Kyle. Great tips and good times! I feel super pleased with that drop on the bench cut. Need to work on manualling to get the front wheel up.
haha, thats awesome. Must have been the power poles I was goofing around on. Next time I'll have to make sure to bring my real trials bike and see if I can manage to keep up with the new high expectations!
Thanks to our very knowledgeable instructors we had a grand time and learned a lot. Thanks!
Hate to broach this topic in January…Would love to get in on one of these clinics this summer, unfortunately I end up working a lot of weekends unless I have some dates I can schedule off in advance. Anyone know if and/or when these clinics or something similar might be happening?
It's funny you mention this right now as I am currently working on TrailFlow's spring / summer program and event schedule. Unfortunately I don't have any firm dates at the moment. All I can say is that TrailFlow will be hosting the program again this year. Maybe we will be able to offer two dates this year for the Advanced clinic as if I remember correctly I think this program was full or nearly full last year.
I know someone that is really interested in the women's intro program. I'm hoping that's on the books this year as well.
Yup… womens intro program is on the list too! as well as a multi-week youth program

Trailflow advertises private coaching on their website too, so that might be an option for busy folks that can't make it to a clinic. Might make a good gift to a certain spouse.

I should try to find a participant