UPDATE:
Meeting facilitated by NOVA, Velo QC, Bike NS and Town of Truro.
Case studies presented : Bromont, Quebec; Kingdom Trials
Targeted areas of improvement:
Miinor/Easy to Improve
Communication via Web and Trail Descriptions on Trail-forks (@bent6543 are you the guy to se about accepting some of the descriptions we are adding today?) , Pre-determined routes for newcomers; better signage and maps, trail designation etc.
Non-MTB Came to Complain(claimed to represent 500 people): Rail yard shouldn't be mountain biker designated what about trail runners. MTBs (He called them BMX) too fast and we might hit an old person from the old folks home or his 12 year old daughter. (Moot opinion). He left without giving anyone the opportunity to debate, and was certainly not interested in any opinions but his own.
Bigger Picture Items:
Trail Sustainability: How we plan, design and build trails to make them last long and tolerate water (climate change = more frequent rainfall). How maintenance is planned and carried out on these trails. And retaining historic trails that are rooty and rough for the people who would rather ride that stuff. (E-Bikes more MTB tourism, how do we prepare for increased trail traffic) Possible consultations with the community and trail companies like @TrailFlow
Longer Tails which Progress: Building longer trails that have more trail features, for various users of various skills. (2000 acres of new land has lots of potential)
Volunteers and Man Power: More staff, more organized volunteers make light work. Talk of reaching out to people in the department of Plant Environmental and Engineering at Dal AC and NSCC to lead labs that will help build trails(Landscape management, tourism and forestry programs ideal). Also we will have some volunteer work days again.
Funding: Victoria Park has not been as keen on Government grants as other trail areas. Looking at fundraising, grant acquisition and tourism income to improve funding.
Facilities and Parking: Parking is being expanded, new bathrooms are going to be built up top with talk of a bike wash station.
All in all, 3 hours of mostly positive thoughts on mountain biking, Railyard Expansion, and bike fun. The next few years will be interesting for Truro.
On the one hand, he sounds like he can be easily dismissed as no amount of fact will change his mind. On the other hand, this sounds like the type of person who sabotages trails, harasses trail users, and generally causes trouble. It might help to document how easily MTB and Trail Running people get along in other areas like Spider Lake, McIntosh Run, etc. Any interactions with him should be documented for future reference, just in case.
And that was kind of said to him. That there is room for all of us, with the exception of trails like trash talking, hawk and a few others that are fast, tight and would be primed for a collision. Some of what he said had a bit of merit. But then he complained about marketing the trails to bikes and having a bike on the logo and poster. Which seemed petty.
From the Bike Truro Facebook page https://www.facebook.com/groups/608943436211869/
"ATTENTION ALL MOUNTAIN BIKERS!"
The next step in the expansion of the Victoria Park Railyard bike park happens at the Truro town council meeting Thursday night and we need your support.

The final presentation of the Railyard Master Plan will be presented to Town Council at the next Committee of the Whole meeting on November 28th at 5pm. This meeting is open to the public and takes place in Council Chambers on the 3rd floor of Town Hall (695 Prince Street).

If you are able to attend or have friends and family that can it will show the council just how important the Railyard expansion is to us and what it means to the communities surrounding it, so your support is needed.
Also just to clarify this will be a presentation to the council and not a debate/discussion from the floor, those meetings had already taken place over the last few months.
Come early if you can to get a good seat, see you there!
14.5km of new trail…wicked!! By the looks of the plan, still room for additional trails in the SE quadrant

yup looks great but it's a long way off… $1,093,500 and a 9 year timeline.
Why the 9yrs? Is it because it will take that long to raise $1M or something else?
It's being rolled out in three phases, which is more manageable: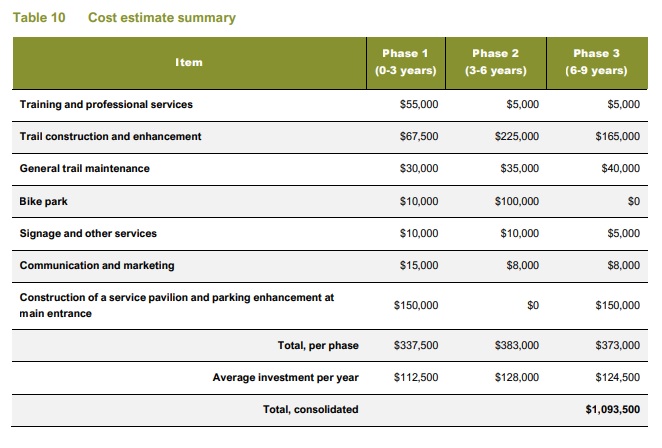 This is so awesome. Best part is, I don't have to buy a new bike to enjoy these kinds of trails, a regular old hardtail 29er will do just fine. Heck, my wife is still keeping it going on a 26er.