Sunday night Feb 7th.
We've got a fatbike trail packing ride going down tnite @ 10:00pm at Spider.
Grab yo light, grab yo fattie, grab a trail beer and come help break 'er mid-storm and it'll be easier to pack Monday.
I work tonight
But plan on going Tuesday at 11am for a snowshoe if anyone wants to go then
Tuesday afternoon: just did 8kms. Some trails packed harder than others but lots of rideable stuff.
Replicator and Ribbon of Love are in good shape and rolling steady.
Sunset Strip, a bit softer but rideable all the way to Cobra Kai and back.
Humps, Lemon Squeeze and most of the 'front' trails are soft but rideable w some effort and improving quickly.
And damn it's beautiful in the woods ATM!
Tips:
lowwwww pressure. I'm running about 3-4psi. Don't worry, there's nothing to hit, rocks and roots are all buried and the tire 'squat' makes a world of diff.
if you're dabbing or can't ride a section please walk with your bike on the trail but your feet off the trail.
big tires atm. It won't be rideable for plus or skinnies for some time.
In 1 hour we saw multiple people snowshoeing, a couple others riding fatties so this network is well on its way to amazing conditions this week.
Just what Terry said
It Would be good if tonight some snowshoer's
Could get out hit some of the trails that have had little traffic,
if you have a toboggan to pull would make a big difference in making it smooth
If that happens it should be good by the end of the week
Went out today
Not much has changed
The Replicator is good, the Ribbon of love is ok the rest needs more snowshoeing.
The Sunset trail and beyond has had some fat bike traffic but is not good. Someone today was riding with what I think is fat tires with to much air and was making a mess of ruts.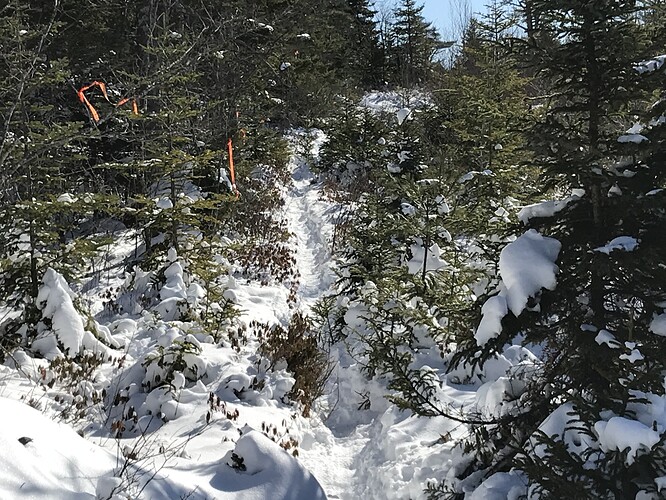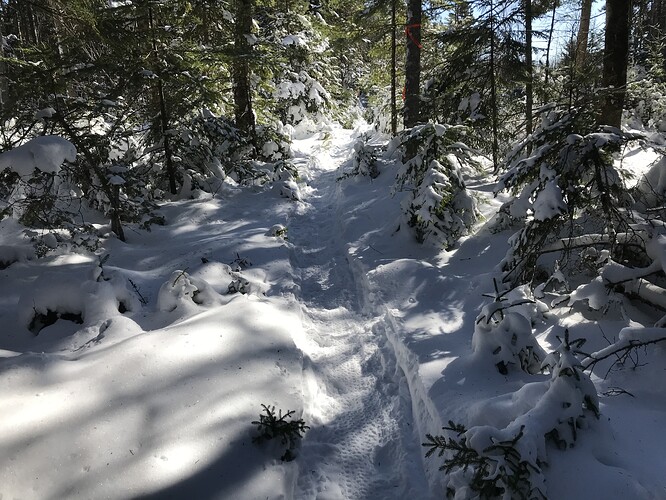 Yeah, I saw their tracks knifing around and blowing out the corners, my guess is that they were on a Plus sized tire.
Did about 10k in an hour so conditions definitely getting faster. As Jim says, Replicator and Ribbon are great. Lemon Squeeze, Humps, etc all rideable.
Sunset Strip is decent but may be challenging for heavier or less fit riders atm. Some boot and big dog traffic needs to get smoothed out via snowshoes or fatties.
I rode Western Front until the end of the snowsho'ing. The waterhole is frozen solid, rode right across the ice.
I'll ride in late tnite or tmmrw w my snowshoes strapped to my Camelbak and snowshoe CobraKai.
Keep up the great work everyone!
Friday 12th / Afternoon: Spider is significantly better than earlier in the week, lots of snowshoeing and some fatties combined with cold nights have really firmed up anything that has been packed.
Not hard to put together a 90 minute/ 10-12k ride there without doing multiple loops of the same trails.
Replicator- great
Ribbon of Love- great
Sunset Strip- good, much better and smoother than earlier in week
Cobra Kai- first half is packed and rideable/ back half needs to be snowshoed still
Western Front- first half is packed and rideable / back half was being snowshoed when I left an hr ago.
Lemon Squeeze/Lego/Humps- good
Clearcut Crossover/BackDoor Trail- soft but rideable. Easier to descend to Pipeline than to climb up it.
Poker Run- unbroken snow
Horseshoe Loop- unbroken snow
Northern Exposure- unbroken snow
If you're unfamiliar with the trails, attached is a file from today you could upload onto your device and follow.
Its_Gettin_Good_Again.gpx (1.5 MB)
Fat only.
There's a couple of trails like Replicator and Ribbon that you can ride on a reg mtb but the majority of the other stuff is too soft. Shubie Park would be a better option for reg bikes.
Keep in mind that many of the trails only got snowshoed in the last 48 hrs so even on a fatbike they reward very soft tire pressures and staying directly on the packed line. There is evidence of a Plus bike or two in there knifing around and blowing out the packed corners so I'd strongly advise those guys to wait a couple more days and it'll be good for everyone.
Big thumbs up to the snowshoers too! There's still ample opportunity to find soft or unpacked trails that you can assist with so grab ya shoes and go have fun.
Hoping to get out there for a night ride tomorrow

Update:
Cobra Kai is fully snowshoed now.
Poker Run btwn Pipeline and Sunset Strip is snowshoed now.
Both should be set up enough to ride tmmrw w a fat tire, low pressure and some skillz.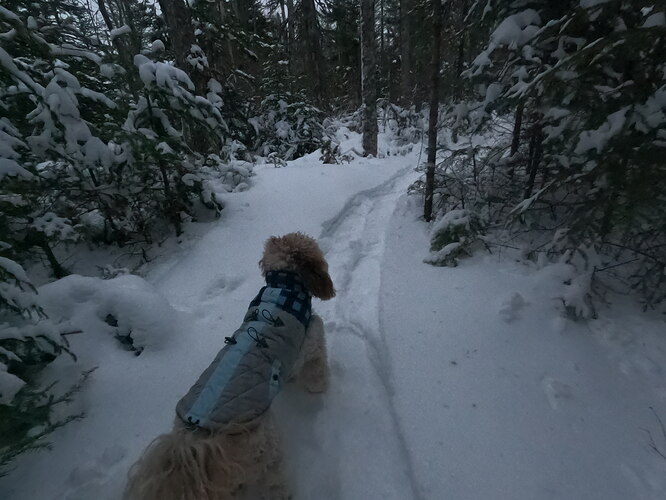 If anyone's up for a night ride tomorrow I'll likely be there between 8 and 830

I'll send you a message @smithers
I've never heard these trail names before. Are those the newer trails past CobraKai?
Many thanks to @streetgang and everyone else involved in getting Spider stomped down. Got out for a short ride after work today and it's well on its way to being a blast in there!
Thanks for all the tromping Terry.
Still too soft for skinnys tomorrow morning ya think?
Yes… needs to harden up some more and hopefully packed down a bit more along the edges
Thanks. Maybe ill go for a snowshoe instead. Not as exciting but still exercise haha