Welp, here we go again. Use this thread to keep everyone updated on trail conditions.
Yeah! Snow…had a great little ride in to work on the Klunker.
Hero frozen dirt and grippy granite on the norawarren/west pine trails! The big flooded area where Nora and warren cross over is gone. Bridges are predictably slick with a touch of glare dusted with snow. Only one small avoidable off camber patch of ice over rock on west pine approx 10 metres before the Notch.
Spider Lake doubletrack is predictably icy in patches where it's normally wet. Most of the typical wet spots on singletrack are thin ice which will give way to the bike weight, but not always. The rock on Mississippi that gathers ice in winter has gathered ice.
Otherwise nice hero dirt conditions with some snow to make roots interesting for those running higher pressure tires.
Any keppoch info? Hoping to be there with the fatbike tomorrow morning
The valley is great in bird Sanctuary…some snowshoers in and was in last night.
@Drgonzo keppoch has a snowdog and a lot of the XC trails are now groomed from what I've heard.
There's a race there tomorrow morning though for trailrunners so you may not have access to some or all of the groomed stuff.
Bowater is minty. Hero dirt, no ice, mostly bare with just a light dusting of snow in a few places.
Spider is good. Almost no ice and just a skiff of snow.
Have never been to those trails but would love to check them out someday.
Keppoch has quite a few groomed/packed snow trails, no ice encountered. Nice fire going in the lodge. First tracks coming down ungroomed chicken cougar-what a blast trying to two-wheel drift around the berms!!
McFight was great yesterday—a few very small ice patches and a bit soggy here & there but otherwise decent
FYI there's a tree down at Bowater, on the south side of the powerline near the bottom. A hand saw could get through it but I didn't have mine. Pic for reference.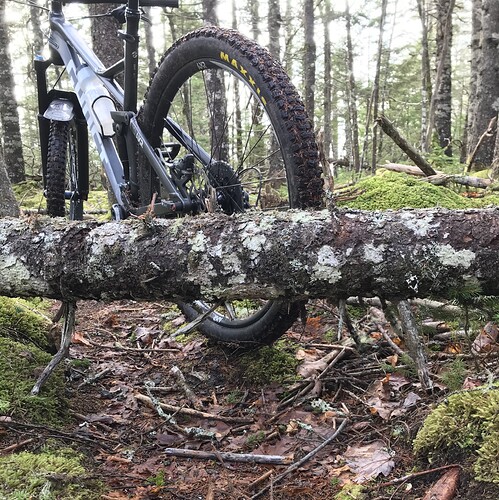 Anyone ridden keppoch lately? I believe there's a fair amount of snow there-maybe more on the way for the weekend? Thinking about taking up the fatbike-not sure if I'll need studs on or not…
Took a spin around Irishman's tonight. There's a dusting of snow pretty much everywhere and the snow melt that occurred with the recent mild weather hasn't drained. So there's lots of half frozen puddles on the trails. And lots of deadfall/windfall. We ( @Adam and I) moved the small stuff.
There's a huge tree diagonal across one of the lower trails (Edit: It's Winter Loop). That might take a chainsaw and an ATV to get it out. A short person could ride under it. Normal humans like me will need to duck down pretty far to limbo under it.
Stealing from Adam's Strava tonight…The dirt was 'Not as heroic as anticipated'. Still good fun for a 90 minute ride in the dark!
Just had my first ride at Bowater and it's 99% hero dirt on the trails I rode…So sweet!
I'll hopefully have my beast rolling again on the weekend. Who wants to give me a tour of Bowater on Saturday afternoon or sometime on Sunday?